This is a guest post.
The great legends of music may pass on, but they leave their musical memorabilia behind them. As any fan will tell you, a musical manuscript or instrument becomes an extension of the musician who created it or performed upon it.
Whether it's a guitar owned by Elvis Presley or a piece of sheet music scribbled on by Beethoven, fans will pay just about anything for a piece of musical history owned by a cultural icon. To help you compile your wish list, here are some of the most expensive pieces of musical memorabilia ever sold:
10. Paul McCartney's "Getting Better"
The handwritten lyrics to the 1967 song, "Getting Better" sold at London's Sotheby's for £161,000 (almost $250,000) in 1995.

9. The Jimi Hendrix Stratocaster
The Fender Stratocaster played at Woodstock by Jimi Hendrix sold at Sotheby's in London for £198,000 (more than $300,000) in 1990.
8. "Candle in the Wind"
The handwritten lyrics to Elton John's and Bernie Taupin's song, "Candle in the Wind" were sold at Christies auction house in 1998 for a whopping £278,512 (almost $450,000).
7. Clapton's "Brownie" Guitar
Eric Clapton used his favorite guitar, which he called "Brownie," to record his song, "Layla." "Brownie" was auctioned off at Christies for £313,425 (more than $450,000) in 1999.
6. Mother Maybelle's Gibson
One of the founders of country music, Mother Maybelle Carter, paid only $275 for her Gibson guitar in 1928, a guitar that she played until her death in 1978. A few years ago, the famous Mother Maybelle guitar sold for more than $500,000 and was donated by philanthropist, Bob McLean to the Country Music Hall of Fame Museum in Nashville.
5. Garcia's "Wolf" Guitar
Considered a Holy Grail item by hordes of Grateful Dead fans, Jerry Garcia's custom-made guitar, named "Wolf", sold for $789,500 at Guernsey's auction house in 2002.
4. Garcia's "Tiger" Guitar
Another of Jerry Garcia's guitars, this one named "Tiger", also makes this list, selling for $957,500 at Guernsey's auction house in 2002.
3. A Beethoven Quartet
In 2003, a signed musical manuscript of a quartet written by Beethoven in 1825 sold for more than £1 million (more than $1.5 million) at Sotheby's in London.
2. Lennon's Steinway
In 2000, pop star, George Michael purchased John Lennon's upright Steinway Model "Z" piano, on which he wrote "Imagine", at Fleetwood-Owen's online auction for £1,450,000 (approximately $2,243,974). After his purchase, Michael returned the piano to the Beatles Museum in Liverpool so that generations of fans could enjoy it as well.
1. Beethoven's Ninth Symphony
In 2003, a working manuscript of Beethoven's Ninth Symphony sold for £2.1 million (more than $3 million) at Sotheby's in London. Beethoven's original payment for the entire composition was a mere £100 (around $160).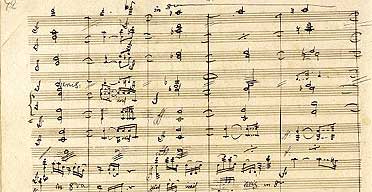 After reading figures like this, you've probably realized by now that bidding on musical memorabilia requires some serious cash. By going to sources such as www.moneysupermarket.com you can learn how to budget your finances and save for that indispensable luxury item that you can't live without.
With a little financial planning, you may become the next owner of a Mozart manuscript or a coffee mug owned by Mick Jagger.
Leave your comment!
You might also like these posts on other blogs: